http://cinziamazzamakeup.com/?x=comprare-viagra-200-mg-online-generico-a-Torino Oh, that wily Kat… When she first told me about EdenFantasys offering her free toys to review I said, "Kat that sounds like a bunch of fun! Go for it!" Then shortly after I'm startled by an excited squeal, "OMG, Daunt! They got SLEEVES! You can do it, TOO!"
lasix for sale "Um, Kat, I'm confused… Sleeves? I can do what, too?"
follow link "They got toys for men too! These sleeve things for…. um… well you know… YOU GOTTA TRY ONE AND WRITE A REVIEW!"
farmacia viagra generico 25 mg I chuckle, "Funny Kat, you had me going there…"
"I'm serious! Oooh I know! We'll have a poll and let our readers choose the toy for you!"
"Whoa whoa whoa! Wait a minute…. you're serious?"
And the rest is history… I'm getting my very own masturbation sleeve. Who knew that signing on to this blog would have me, DauntlessD, reviewing adult toys for uhh… pleasuring myself. However after thinking about it, Kat was game, so why shouldn't I be? It's tit-for-kat err tat.
Our readers chose me a Grip-n-Stroke, and it is rather interesting looking.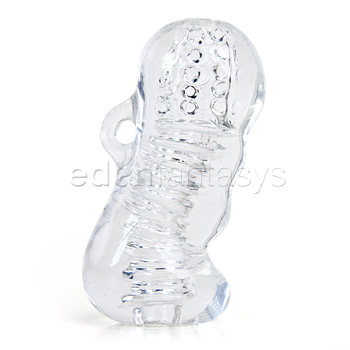 The inside of it is textured and the area where the head of my manhood would be had what appeared to be little beads. Hmm, I thought to myself, this thing might feel pretty darn good.
Turning it over both Kat and I were a bit skeptical. Size-wise for a man I am quite typical, but the opening of the sleeve was about the diameter of a penny, a Sharpie felt tip pen would almost fill the opening! I am sure the women in my life are quite thankful that length and girth of my member are much larger than a Sharpie, but how is this thing going to work? How am I going to fit?
I take the toy home. Finally I get some quiet time and access the spank-bank recesses of my mind… hmmm our lovely Kat… or maybe Cara… or maybe Kat and Cara… yeah… Fully lubed and erect I'm ready to test and…
It was hard to slip the sleeve on. At first it just seemed I was too large. The crazy Grip-n-Stroke toy seemed to be fighting me then pop, just like that I slipped in. Kat and Cara, stroke… Stroke, stroke, Cara and Kat. Oh the toy was feeling nice… However I quickly discovered that long strokes didn't work! The head of my cock popped out the other end, and that end when not stretched is about the size of a Bic pen! Ouch!
Ok Daunt, shorter strokes, maybe that will work. Kat and Cara, stroke… Stroke, stroke, Cara and Kat. And work it did. The beaded interior rubbing against the head of my manhood was a unique feeling and it felt tight all around. And that same constriction did something unique of it's own. When I achieved lift-off, I'm lucky I didn't punch a hole in something. My cum shot out like it was being propelled by gunpowder.
Although I enjoyed testing the Grip-n-Stroke, in the end I decided the device wasn't for me. It was a bit too tight, but for you guys that like that feeling give it a try; just remember to use plenty of lube. Also any size man can use it. The material this thing is made out of is amazing, it stretches like you wouldn't believe — I actually was able to use it as a can cooler on a beer can.
Thanks again to the folks at EdenFantasys. Be sure to check out all the sex toys they offer, I'm sure you and your honey will find something fun.